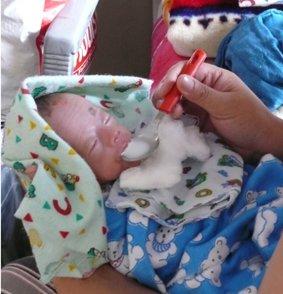 Newborn Necessities
VGNN
In certain areas of Tibet four out of every nine birth will result in the death of either mother or baby. Most of these deaths could be prevented by using the correct sterilised equipment such as scissors, towels, soap and clean clothes for baby. This gift will provide all these essential items in a newborn baby pack to make sure that mother and baby do not have their lives put at risk for want of basic equipment.

As one lady from a remote village said, "Undoubtedly the training has saved lives here already. Beofre, when people had problems, we didn't know what to do". In her village alone, two lives have already been saved this year thanks to the quick thinking of these newly trained birth attendants and the hygienic equiptment available for them to use.

Buying this gift today will help continue the fantastic work and reach even more remote communities, help to prevent unnecessary deaths in the future.

All proceeds from sale of this item go to Tibet Relief Fund