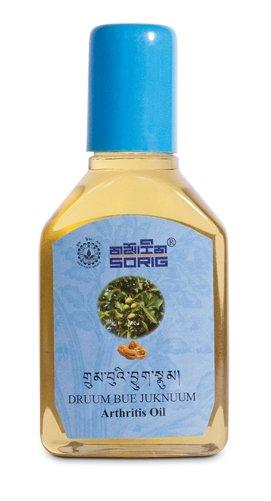 Sorig Arthritis Oil
NGO/899
We are delighted to be stocking Sorig herbal products made by Men-Tsee-Khang. All items are based on ancient formulations and manufactured from the finest ingredients under the strict supervision of highly trained and qualified Tibetan pharmacists. Sorig products are not tested on animals and are made entirely from vegetable ingredients. Sales of these products help support the work of Men-Tsee-Khang in the preservation and promotion of Tibetan medicine. 
Sorig's Arthritis Oil (75ml)
Designed to ease joint pain and improve joint movement. Made from natural herbs according to traditional Tibetan science.
"I started using the arthritis oil and within two days, my knees felt better. The pain was greatly reduced." - Marieke Clarke, 74
INGREDIENTS: Juglans Regia (English walnut), Glycine soja (wild soybean), Asparagus, Zanthoxylum clava-herculis (Hercules' club), Juniperus spp. and Acacia catechu.