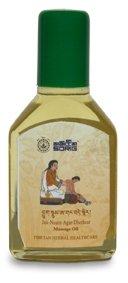 Sorig Therapeutic Massage Oil
NGO/4
We are delighted to be stocking Sorig herbal products made by Men-Tsee-Khang. All items are based on ancient formulations and manufactured from the finest ingredients under the strict supervision of highly trained and qualified Tibetan pharmacists. Sorig products are not tested on animals and are made entirely from vegetable ingredients. Sales of these products help support the work of Men-Tsee-Khang in the preservation and promotion of Tibetan medicine.

Therapeutic Massage Oil (75ml)

According to Tibetan medicine, the body's energies need to flow freely for a healthier and longer life, and to promote an overall sense of calmness and well-being. The special blend of Himalayan herbs in this oil helps stimulate the flow of energy throughout the channels and muscles of the body. It is also used by Tibetans to relax and soothe babies.
INGREDIENTS: Glycine max (Soyabean oil), Myristica fragans (Nutmeg), Zingiber Officinalis (Ginger), Rubus sp.,Syzygium aromaticum (Clove), Curcuma longa (Turmeric), Carthamus tinctorius (Safflower), Bombax ceiba (Silk cotton), Elettaria cardamomum (Cardamom), Adhatoda vasica (Malabar nut), Amomum subulatum (Black cardamom), Carum carvi (Caraway).