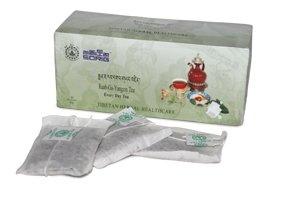 Sorig Everyday Tea
NGO/et3
We are delighted to be stocking Sorig herbal products made by Men-Tsee-Khang. All items are based on ancient formulations and manufactured from the finest ingredients under the strict supervision of highly trained and qualified Tibetan pharmacists. Sorig products are not tested on animals and are made entirely from vegetable ingredients. Sales of these products help support the work of Men-Tsee-Khang in the preservation and promotion of Tibetan medicine.
Everyday Tea (Box of 20 bags)
This delicious caffeine-free herbal tea contains a variety of ingredients, long respected by Tibetans for their special qualities. Redcurrants, wild saffron, wild rose and ginger are combined together to aid the balancing of body energy and promotion of inner harmony, relaxation, healthy skin, appetite and digestion.

INGREDIENTS: Rubus, Symplocos paniculata (Asiatic sweetleaf), Carthamus tinctorius (Wild saffron), Elettaria cardamomum (Cardamom), Zingiber Officinalis (Ginger), Rosa brunonii (Wild rose).
The 'damaged' option refers to the box being damaged in transit from India, not the product itself.